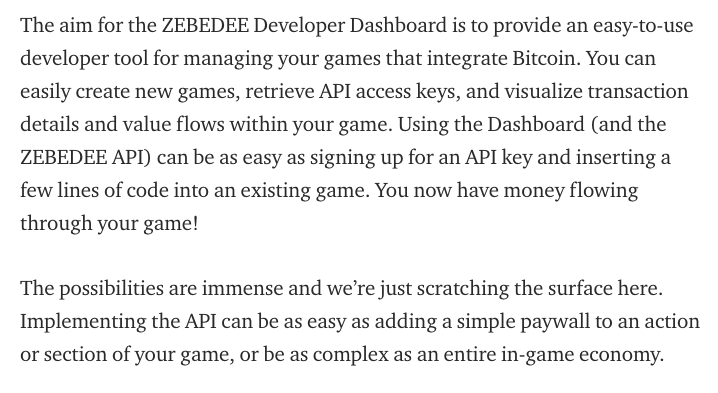 Over a year ago, you freaks congregated around this rag as we discussed the emergence of in-game payments in sats (the smallest denomination of a bitcoin) being experimented with by gaming developers. Since then, we've seen the proliferation of this idea catch the attention of entrepreneurs who have gone on to build companies like Satoshi's Games, Donner Lab, and the company above, ZEBEDEE. Each looking to build fun games that implement bitcoin payments natively into their environments.

Something that was merely a proof of concept this time last year has burgeoned into a small cottage industry that is creating inroads for bitcoin to be more commonplace in the global economy. We are in the infrastructure building phase to make bitcoin more commonplace in gaming and what ZEBEDEE announced this morning is a huge step forward towards bringing this vision to fruition.

A developer dashboard and development kit that allows game developers to seamlessly integrate bitcoin payments via the Lightning Network into the games they are creating. Helping to solve a monetization problem that has existed as long as indie gaming and making it easier for gamers to monetize all of the time they spend gaming.

Last year, Uncle Marty proclaimed, "The opportunities are MASSIVE and they seem to become more inevitable the more I think about a scenario in which some younglings begin to understand Bitcoin innately and dedicate their video game playing lives to acquiring as many satoshis as possible to take advantage of the possible price appreciation." It seems that this timeline may be developing. Unsuspecting youths are about to be introduced to Bitcoin via the games they're addicted to and begin to learn about the most revolutionary technology of our time in a sly roundabout way.

They won't even need to have bitcoin to start. With apps like Escher, LN_Strike and Opennode's new integration with Wyre and Apple Pay, they can use fiat to onboard themselves onto these gaming platforms and decide whether or not they want to keep the sats they earn after that.

The one point of push back I have on this trend is whether or not people will actually want to put their sats on the line at this point of Bitcoin's monetization process. Does this turn gaming into gambling? What do you freaks think?      
---
Final thought...

It's crazy how helpless young humans are. But it's also awesome.
---