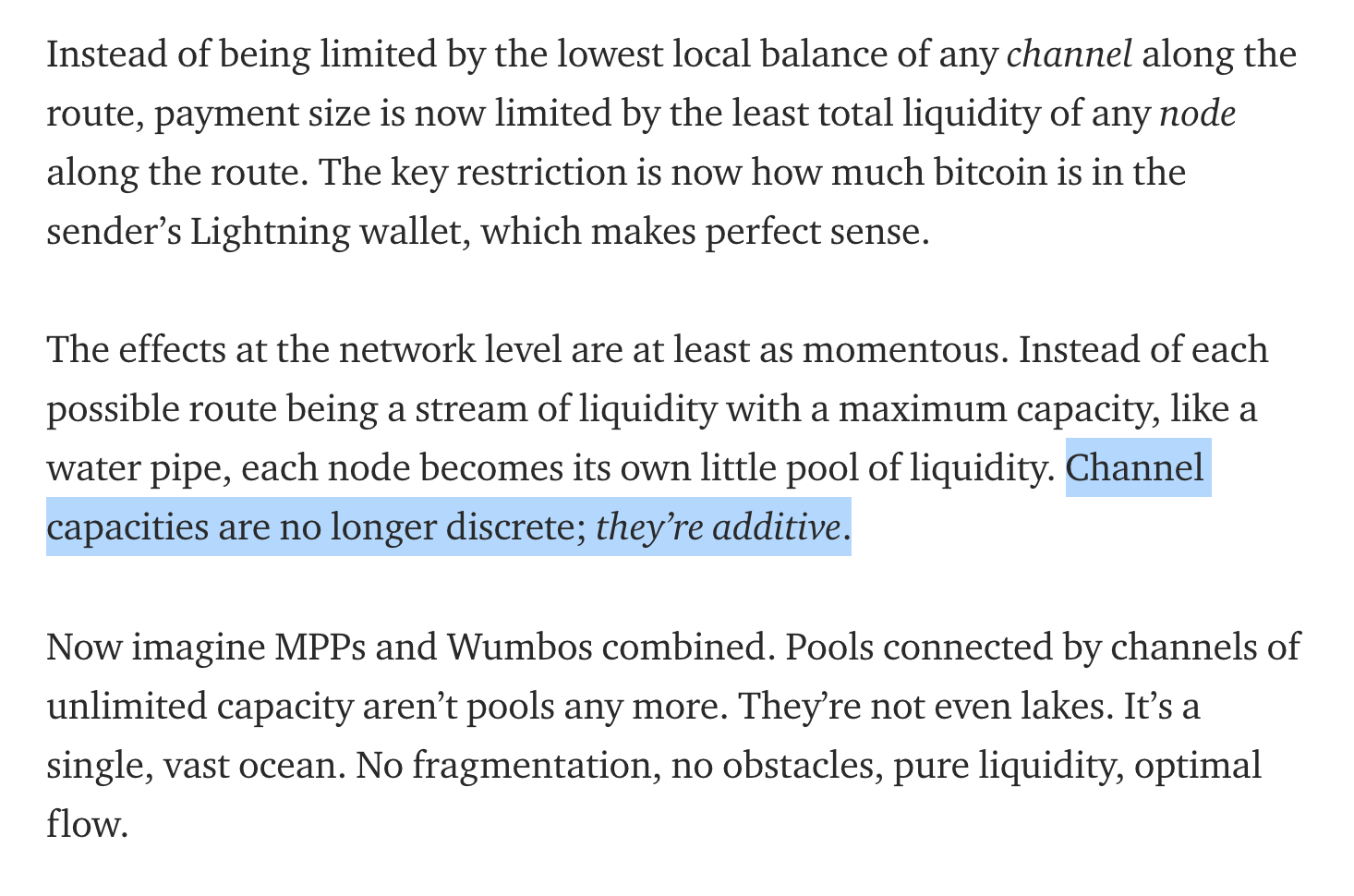 Here's a great piece from the Breez Technology team that explains the significance of two new improvements to the Lightning Network; Multi-Path Payments (MPPS) and Wumbo channels. Particularly how the two improvements compliment each other and enable a deeper pool of liquidity and a more seamless transacting experience on the Lightning Network.

In short, MPPs make it so individual users don't need to depend on their channels alone to send a payment. Helping to alleviate the pain-point of having to actively manage channels that don't have the amount of funds you are looking to send or receive. Wumbo channels enable users to create larger channels with each other, compounding the benefits of MPPs by raising the threshold of the amount that can be sent by users connected to nodes with Wumbo channels open. As the Breez team points out in the highlighted sentence above, MPPs create an additive feedback loop via channel creation that is compounded by the creation of channels with considerably larger capacity than we have seen to date.

These improvements increase the utility of the Lightning Network considerably while doubling as an overall UX improvement for users sending and receiving transactions. Slowly but surely Bitcoin's most promising second layer continues to improve in the face of doubt. Many individuals have knocked LN due to the fact that channel management up to this point has depended on too much user intervention. Additions like MPPs and Wumbo channels are changing this reality. By no means is the network perfect at this point in time, but the steady progress is extremely encouraging to see.

It should be noted that the financial applications that the Lightning Network enables, mainly sending and receiving sats quickly and cheaply, is only the tip of the ice berg. If the liquidity and pipes (channels) that allow that liquidity to flow continue to improve, the non-financial use cases of LN become likely. Building messaging apps and distributed APIs become more likely as the probability of having a message (transaction) going through successfully on the first attempt increases.

Onward!
---
Final thought...

I think I've perfected grilling a tomahawk steak in a cast iron pan. *chef's kiss*
---