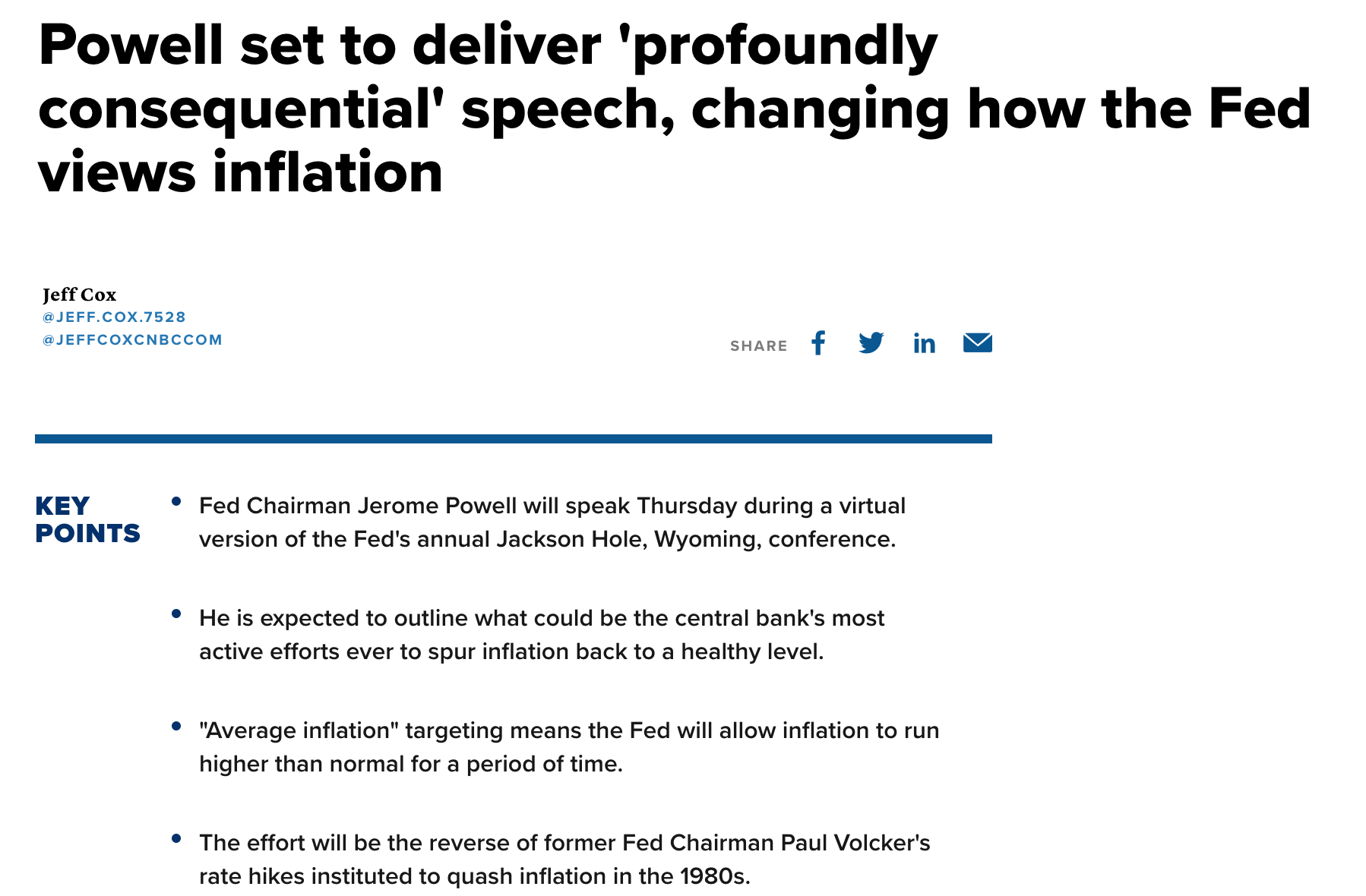 A little over a month ago, we made you freaks aware of the fact that individual Federal Reserve board governors were beginning to posture that the Fed would begin to implement policy that would attempt to overshoot their inflation target of 2%. Well, it seems like Federal Reserve Chairman Jerome Powell is set to make a "historic" speech tomorrow at Jackson Hole, where the world's most egregious kleptocrats are set to meet for a couple of days to pow-wow. All the entrenched crony media types are saying that Powell is going to confirm the whispers that started last month and announce the Fed's intention to overshoot the 2% target. Insanity.

Since it is already a foregone conclusion that the Fed fully intends to go full send for inflation the only question that remains is; how are they going to reach their goal? What type of exotic policy are they about to unleash on the world? Your Uncle Marty doesn't know exactly what they intend to do beyond assuring markets that they will keep rates extremely low and keep the printers on full blast, but I imagine it will include direct capital injection flow that the markets haven't seen to date. This year we've already seen the Fed venture into previously unchartered territory when they started buying corporate debt and ETFs. It seems that they will be venturing into even more unchartered territory after tomorrow's speech.

As we've said many times since this rag has been a thing, the Fed has lost all credibility and they seem dead set on making that very clear to anyone else who may not be paying attention. At a time when the global economy is on its knees and America is experiencing record unemployment, Jerome Powell and friends are going to actively attempt to make the cost of living for the already struggling Common Man materially higher. Those who are supposed to be the smartest men in the room seem to have the least common sense and may be downright evil.

Be on the lookout tomorrow to find out exactly what we have in store. It will be a pivotal moment in the history books that are written about the fall of the Dollar.

Buy Bitcoin.  
---
Final thought...

It's a Mac Miller type of Wednesday.
---